WE ARE NOW PROUDLY OPEN IN THE HEART OF SOUTH CALIFORNIA
Please contact us on the same phone number for the same services in Irvine Ca.
Our organization is seeking individuals with exceptional RDH dental skills. The optimal candidate will have prior experience as a dental hygienist and exemplary communication skills.
This position requires a pleasant and tolerant disposition, as well as the stamina to meet the job's physical requirements. The candidate must also possess a Diploma in Dental Hygiene and a valid license to practice.
You will be responsible for a variety of duties as a Dental Hygienist, such as cleansing teeth, examining patients for indications of oral diseases, and providing preventative treatment to maintain good oral health. In addition, you will be required to capture and develop dental x-rays, educate patients on proper oral hygiene practices, and assist the dentist during necessary procedures.
The chosen applicant will be a team player who is committed to provide top-notch patient care. Also, they must be able to work quickly while yet paying close attention to detail and precision.
We invite you to apply if you have the requisite knowledge and abilities for this role. At our company, we provide prospects for professional advancement as well as excellent salary packages.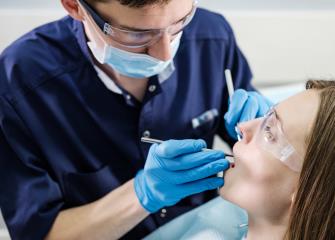 We believe in creating healthier smiles.
Putting Our Heart Back Into Dentistry